LAC
in
partnership
with the
community
The video is 1:20 minutes long and starts at about 20 minutes in. Slide the You Tube viewer timeline bar to 20 minutes to skip the very long intro and watch the beginning of the very informative forum.
LAC 3rd Anniversary Picnic - October 12, 2013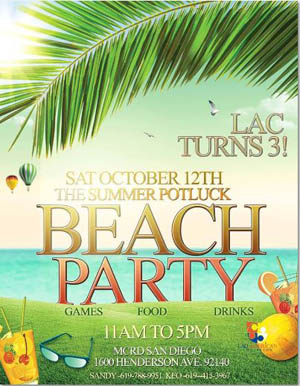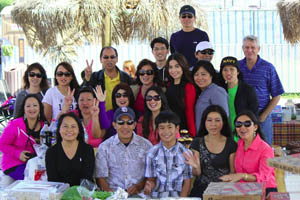 Happy Birthday LAC! On Oct 12th, supporters picniced at MCRD San Diego to celebrate its 3 year anniversary.
Thank you for spending a day with us!
Community Voices at the Old Globe Theater - March 25, 2013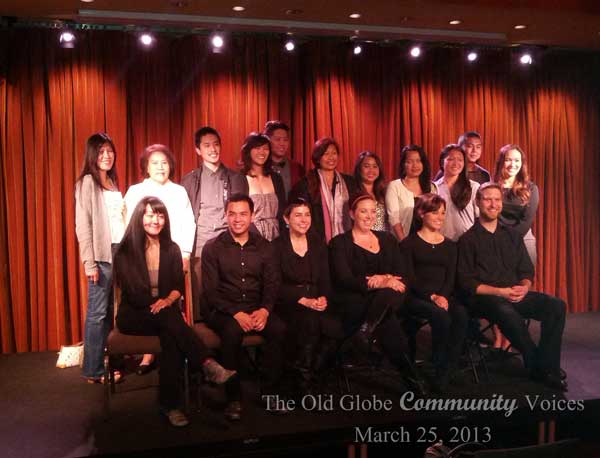 Ten excited members of our community took part in an 8 week playwriting course at the Old Globe Theater lead by Community Teaching Artist Katherine Harroff. On March 25, 2013 their graduation was highlighted as each of their 10 minute plays were read aloud by the Old Globe Community Voices actors in the company of family and friends. The show room in Hattox Hall was packed and filled with emotion as one by one the graduates' work was performed.
Congratulations to Playwrights
Pim Siripanyo "The Many ways to Kiss Your Money Goodbye" - Video
Carol Manisouk "Wish You Were Here" - Video
Viliya Ketavong "You'll Only See What You're Looking For"
Kinnalone Bee Savatdy "All For Love"
Khamp Thongrivone "A Night to Remember" - Video
Ranier Ronquillo "The Play" - Video
Phatthason Manisouk "The Last Single Latte" -Video
Bidone Salima "Beauty"
Sunny Chantharathip "Things I Learned from a Life Unrealized" - Video
Bandith Xaysana "Lao-Shen in Translation"
The Globe acknowledged the support of the Lao American Coalition, The Jacobs Center and in particular, the organizational talents of LAC's own Sandy Spackman.
top
Southeast Asian Refugee Experience - August 25, 2012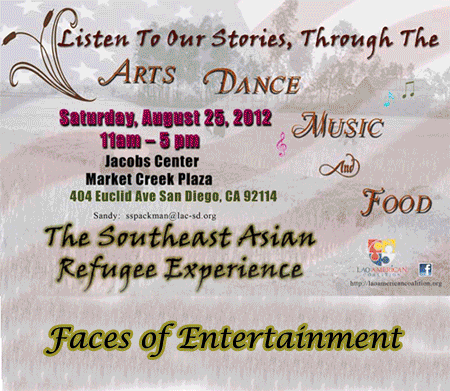 Thank you for supporting LAC and participating in this great event. Thank you to our wonderful volunteers, our gracious sponsors and to the community that came together to broaden their understanding of the multi-cultural Southeast Asian Refugee. ..
details
Check out our photo slideshow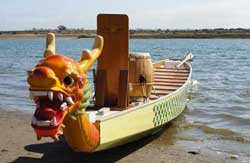 Dragon Boat Festival Highlights
Congratulations to Captain Khamp Thongrivong and his mighty LAC team "Sticky Rice Power" for taking 3rd place at the 8th Annual Dragon Boat Festival on May 8th.

Highlights of the New Year Parade at the Wat Lao Buddharam - click it
Slideshow of Lao New Year 2012 Temple Celebration - click it
LAO AMERICAN COALITION (LAC) 2011 REPORT
Donations
Asian American Pacific Coalition (APAC)/Beyond Productions
Asian Business Association (ABA)
Alpha Phi Gamma
Filipino American Community Empowerment (FACE)
Lao Community Cultural Center (LCCC)
Lao Dance Alliance (LDA)
Lao Parent Student Teacher Association (LaoPSTA)
Lao San Diego Soccer Club (LSDSC)
Rady Children's Hospital/San Diego United Lion's Club
San Diego Alliance for Asian Pacific Islander Americans
San Diego Asian Youth Organization (SDAYO)
San Diego Lao Hmong Family Association (SDLHFA)
Activities Organized by LAC
1st Lao Health Fair- Mar 12
Hosted a booth at Asian Cultural Festival –  May 1
Sponsored the Sticky Rice Team at Dragon Boat Race -  May 1
Provided a Lao forum speaker, a Lao cook, and contributed a group cook book for the API Community Health Network Third Annual Forum & Multi-cultural Event – June 4
Donated food to the Mid-City SD Police Department following June police shooting
Created a brochure about Laos for general public use - July

Sponsored a Lao Day @ the Padres –  Sep 2
Co-sponsored a Family Day at Mission Bay Park with the SD Lao Soccer Club-  Sep 24
Sponsored a Chollas View Neighborhood Cleanup – Oct 8
Hosted the Lao House at Market Creek Plaza, 2011 Arts & Culture Fest - Oct 15
Donated floating flowers for Wat Lao Buddharam Fundraising, Oct 15

Provided compassionate services to needy Laotian families
Activities LAC Participated In
Testified at State & City Redistricting public hearing to empower Asians in City of San Diego and the State of California, July 2010-Aug 2011
Attended meetings at  Jacobs Center for Neighborhood Innovation for VOCAL, Community for Cultural Arts (CCCA), and Learning Partnership; Operation Samahan-API Health Network
Taught at Lao School sponsored by Lao PSTA
Represented the Lao community at Vietnamese Tet Festival - Jan 29th
Attended 2011 Multicultural Lunar NY Celebration - Feb 27
Hosted a table and provided entertainment at SDAYO Fundraising - May 13
Hosted a table and provided entertainment at Lao PSTA Scholarship – June 4
Hosted a table at Spirit of Freedom Leadership Award , June 11
Hosted a table at Lao Dance Alliance Fundraising- Jul 23
Attended SDLHFA High School Award Dinner - Jul 24
Hosted a table & donated bottled water to LSDSC 2nd Anniversary Tournament & Fundraising –Aug 20
Hosted a table at LCCC Pageant Scholarship Fundraising - Sep 17
Provided MC and co-hosted a table at Rady Children's Hospital fundraising organized by SD United Lion's Club- Sep 18
Attended Kalusugan 9th Anniversary Celebration– Nov 12
Attended Lao Golf End of Year Tournament Celebration - Nov 12
Attended Asian Business Association Fundraising Dinner- Nov 17
Attended the Lao Hmong New Year Celebration – Dec 17