LAC Supporting the Community
The Lao American Coalition (LAC) is a proud sponsor of the 2017 API Outstanding Student Mayor Award Program.
Congratulations to Billy Daoheuang and Katherine Sisombath from Lincoln High School and to all of this year's award recipients, The awards will be given out by Mayor Faulkner and Councilman Cris Cate on October 26, 2017
Click here to see the full list of 2017 award recipients and for information about the program and its sponsors.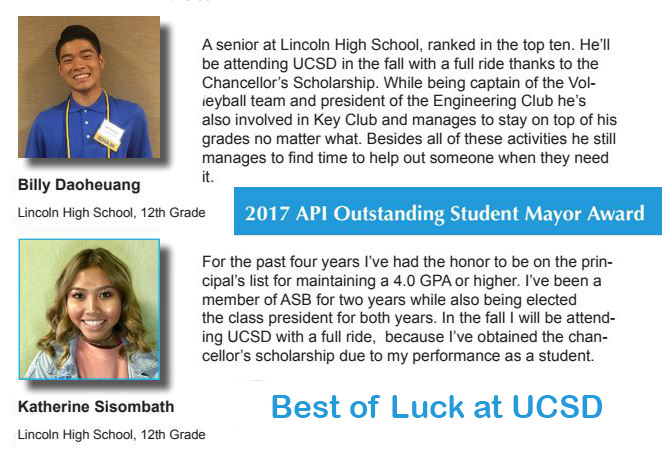 ADA Diabetes Screening Guidelines
"Brian Nguyen, a third year medical student at UC San Diego developed this 6 minute youtube video with Indonesian-Australian (hence the cheerful accent) medical student and artist, Armando Hasudungan, to inform college students about "Screen at 23" and to encourage them to have their parents/family members screened. UC San Diego has 10,000 Asian-American undergraduate students, and half of our 600+ medical students are AA. Brian's goal is to raise awareness about "Screen at 23" among UC San Diego students, and eventually, other college campuses."